Calling all married couples!!!
The office is updating our records and if you are a member of IHM and are married, please go to the IHM website to complete the form or come into the office, ASAP!!!
We need to complete this project before June 1st, if possible. Whether you've been married one year or seventy-five, we want to know about it!
Questions? Please call the office.

Llamando a todas las parejas casadas!!
La oficina está poniendo al dia todos los archivos de matrimonio y si ustedes son miembros de ICM y están casados, por favor visite el web para completar el formulario, o venga a la oficina tan pronto como le sea posible!!!
Nosotros necesitamos completar este proyecto antes del Primero de Junio. Si está casado un año o setenta y cinco, nosotros quisieramos saberlo. Si tienen alguna pregunta, favor de llamar a la oficina at: 925-634-4154.


********************
Adult Volunteers Needed for VBS
VBS is scheduled for June 26th-29th, 2017 in the mornings. We are in need of adult volunteers for:
Music Station Leader
Faith Station Leader
No experience necessary! Everything you need is included in the VBS manual for that station - you just follow the directions. VBS can't happen without your help! Please contact Terry Pastor at (925)759-1727 or tntpastor@sonic.net; Teresa Bustos at (925)240-1944 or erbustos@pacbell.net.

********************
You may have noticed all of the beautiful flowers adorning the church. Our environment committee always works super hard to make our gorgeous parish especially beautiful during the Easter season. We are inviting any parishioners who may feel called, to donate, to do so. You may drop off cash or checks to the office. Please write "flowers" in the memo section of your check. Also, for your convenience, we now also offer the option to make a one-time donation electronically. Simply log onto www.faithdirect.net, use the code: CA752 to sign up and pay by credit card!

********************

Did you know
that if you log onto smile.amazon.com, that a percentage of your purchase will go directly to Immaculate Heart of Mary?
All you have to do is to specify who you want the proceeds to go to. Once you choose Church of Immaculate Heart of Mary in Brentwood, CA as the charity of your choice, Amazon Smile (smile.amazon.com), the AmazonSmile Foundation will donate 0.5% of the price of eligible purchases!
That's it! Thank you for all you do for IHM.

********************
Canterbury Pilgrimages
5-14 de Febrero, 2018 - Costo por Persona
Habitación Doble $2,640. - Para reservar, favor de llamar y enviar formulario, con $400. deposito por persona a Teresa Barajas.
Contactos: Padre Rubén Morales - 510-872-8124 moralesrbn@gmail.com Or Teresa Barajas - 510-207-8105
Peregrinaje Incluye: Pasajes de avión ida y vuelta de San Francisco, autobus de lujo, hotels (4 estrellas), desayuno y cena diaria, guias en Español, billetes de
entrada a lugares visitados segun el programa, seguro de viaje.

********************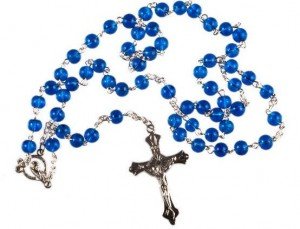 If you are interested in learning to make rosaries,
please contact Pat Trent at rosariesihm@gmail.com.

********************
Confirmation:
May 27, 2017 at 2:00 PM
Presider — Very Rev. Fr. George Mockel
For Information Please contact:
Linda Kortuem: LKortuem@ihmbrentwood.com

********************
IHM Youth Summer Lock-In!
All 4th through 8th graders are invited to attend our annual "Lock-In" put on by the IHM Younger Youth Group! Drop off is 6PM on June 13th. Pick up at 6AM on June 14th. Donation of $15 per child ($10 each sibling). This event includes a t-shirt, dinner, refreshments throughout the evening, fun, games and a WHOLE LOT of JESUS! Please contact Clarisa Specht 925-470-7928 or Sandy Atilano (Spanish) 925-759-6253 to sign up your child by May 26th!
This year's theme is "Beloved".
Pasar una noche en ICM en el verano para la juventud de nuestra parroquia
Todos los jovenes de Cuarto a Octavo grado están invitados a participar en nuestro evento anual de pasar una noche en ICM que está patrocinado por el Grupo de Jovenes de nuestra parroquia. Los jovenes deben de estar en ICM de las 6pm del 13 de junio y tendrán que ser recogidos a las 6am el 14 de junio. Donación es de $15 por cada joven ($10 por cada hermano/a). Este evento incluye una camiseta, cena, refrescos durante la tarde, diversión con juegos y MUCHO DE JESUS!! Favor de ponerse en contacto con Sandy Atilano (Español) al 759-6253 para inscribir a su hijo/a para el 26 de mayo.
El tema es "Amado."

********************
Immaculate Heart of Mary
Parish Feast Day
CALL FOR TALENT!!
Sunday, June 25, 2017
11:00AM – 4:30PM
Does your ministry have a Talent to showcase? Fill out the application located in the Church vestibule and place in the box provided.
**FREE Admission** DJ Music, Food booths, Games for kids/adults. Fun for the whole family!

Inmaculado Corazón de Maria
Fiesta de la Parroquia
Llamando a Talentos!!!
Domingo, 25 de junio del 2017
11:00am a 4:30pm
Tiene su Ministerio algún talento que quieren compartir? Las aplicaciones están en el vestibulo de la Iglesia y hay una caja donde pueden dejar las aplicaciones cuando las completen. Admisión es gratis Musica – kioskos de comida, juegos para niños y adultos. Diversión para toda la familia
********************

Graduating Seniors and Local College Students:
Knights of Columbus and Italian Catholic Federation are offering 6-$1000 college scholarships to Graduating Seniors who attend IHM. There is 1-$1000 scholarship for college students who still attend IHM while attending college. Scholarship applications can be downloaded here or by contacting Linda Kortuem at the parish office 925-634-4154 x117 for pick-up.

Los Caballeros de Colón y la Federación Católica Italiana están ofreciendo seis (6) becas universitarias de $1,000 cada una para estudiantes que se están graduando de bachillerato y que están registrados con ICM. Hay también una (1) beca de $1,000 para estudiantes universitarios quienes están registrados con ICM y que están asistiendo a la universidad. Para aplicaciones para estas becas, favor de ir al website: http://ihmbrentwood.com o llame a Linda Kortuem en la oficina de la parroquia al 925-634-4154 x 117 para recoger una aplicación.

********************
MARIAN MOVEMENT OF PRIEST
Join us on every first Saturday of the month for the Cenacle of the Marian Movement of Priests. The group prays the Rosary and offers up the intentions primarily
for the Pope, Bishops and Priests worldwide.